With the release of Doom (May 2016) on the horizon and the recently released Resident Evil Origins Collection, I thought it would be appropriate to talk about game franchises that need some sort of continuity. Whether that need is measured by a long, overdue sequel, or by a much-needed reboot to somewhat forgotten gems. This isn't really a "Top 10" list, but more of a collection of games that I would like to see awoken from their graves. Please note: I took in consideration games that do not appear to be in talks of having a sequel or reboot.
Vectorman
Vectorman was one of the coolest video games for the Sega Genesis. At the time, the gameplay was unmatched by any other. The fluids of the controls had a great part in this. Admittedly, the story isn't super great but that could be masked by a new updated story line. A third installment of this game was in the works for the PS2 and Xbox before getting canned for good. A new, fresh shooter would fit in a new attempt to reboot this game, but I would love to see this game on the PSN or Xbox Marketplace as an upgraded side scroller.
Silent Hill
Similar to the later Resident Evil games (particularly 5 & 6), Silent Hill has strayed away from what made it special. Foggy environments, shoddy controls, and a quiet atmosphere actually made this series succeed. That is, until newer versions (I'm looking at you, Homecoming!) made it very bland. We all know there was a project for a new installment, but production halted. Let's go back to the old days with this one and show why this was considered one of the scariest franchises ever.
The Suffering
Unlike Silent Hill, The Suffering is not a very popular survival horror franchise. Until you play it and absolutely love it! What's scarier than playing in a demon-infested prison?! This game has so much potential and quite frankly, it's odd that it didn't get a third game.
Mega Man Legends
Capcom tried to slap consumers in the face with their recent release of the Mega Man Collection. I say this because over 10 years ago, they released an anniversary collection for the PS2, Gamecube, and Xbox that included far more games and content (and one you can get for about half the price now!). Aside from that, lost in the shuffle is the Mega Man Legends franchise. This was a lovable and different entry into the Mega Man world. The sales were good so it is mind boggling that Capcom hasn't done anything with it.
Freedom Fighters
This third-person shooter was a revolution for gaming. The story was fantastic and it kept you engaged. Even though EA released it, it is still regarded as a hidden gem. Dust off your PS2 and give it a try, you won't regret it.
Shadow Man
If you have ever played this game, you know that you're in the minority, which is a shame. You are even more in the minority if you managed to play Shadow Man: 2econd Coming (that's not a typo!). The latter was a fun hidden gem that may have spelled the end for the franchise. It certainly could use a reboot. Indie developers, get to work!
Call of Cthulu
Why was there never a sequel? If you're lucky enough to get your hands on this rather expensive game, you will agree with me. Taken from the mind and writings of H.P. Lovecraft, this game is a brilliant survival horror game. With the right staff and company, this could be a great reboot.
Cool Boarders
Raise your hand if you played a Cool Boarders demo on your Playstation Underground disc. Ok, put your hand down. Snowboarding games were all the rage around the turn of the century and this was one of the top franchises in that respect. Mix this with a cool online multiplayer presence, and you have a great selling reboot.
Crash Bandicoot
Oh, Crash. How you have broken my heart. This is the very first game that I played for the PS1. This is one of the most deserving games that are in need of a remake or a sequel. There isn't much to say about this golden game that isn't already said by the ongoing popularity of it.
Gex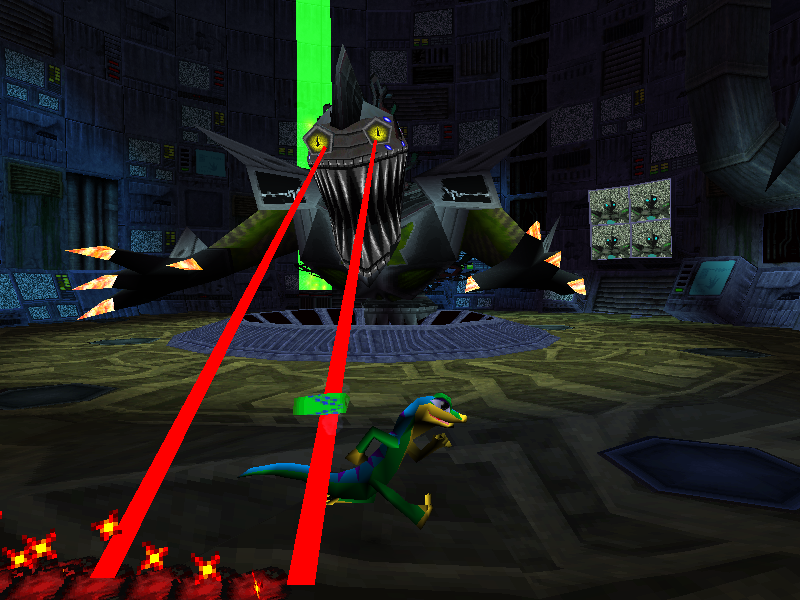 Personally, I saved what I think is the best for last. Gex has always been a staple of my childhood and I still pop in all three games from time to time. The game was met with positive reviews and good sales which are a reason that it is baffling as to why they never released a fourth installment. And no, he didn't retire and become the spokesperson for Geico. This was a fun series in the same style as Super Mario 64 (although, the 1st one was a side scroller). It's a shame that they never continued this awesome franchise and here is to hoping that somebody does.
In conclusion, do you see a trend? Most of these games are centered around single player gameplay. This can be a reason why companies avoid rebooting them. The games that are produced today usually have some sort of online presence. For some of these games, it may be too little, too late. For us as gamers, we must remind companies that single player games still should be a focal point. So what are you waiting for, go spam game companies to remake these!
Please comment below on franchises not listed that you would love to see a sequel or a reboot to. I would be happy to read them! Also, below is a video I did with my friend on franchises that need to be rebooted, check it out!